Launching: "Targeted Communications: Worth the Shot" White Paper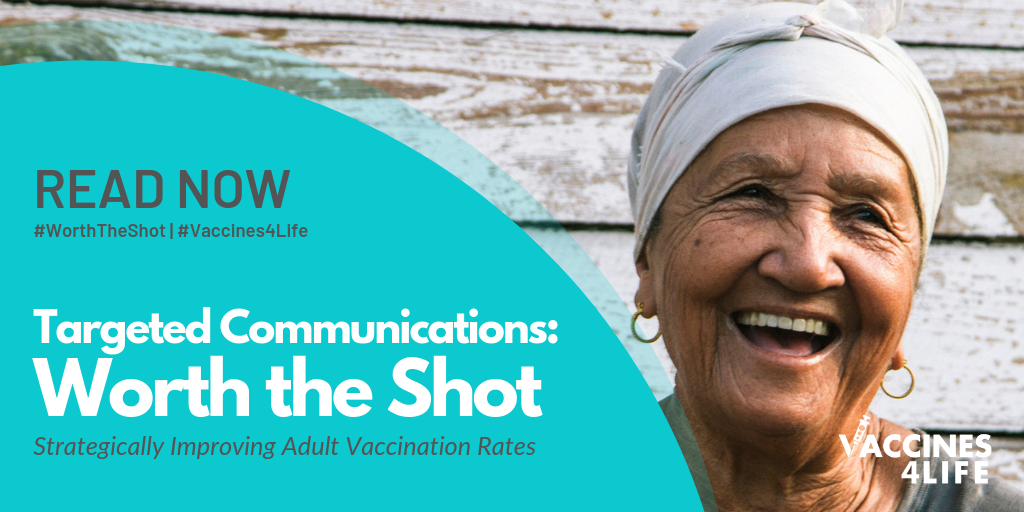 IFA launches the white paper "Targeted Communications: Worth the Shot" which calls on stakeholders to use communication strategies to improve adult vaccination rates.
4 June 2019
Toronto, ON — Today, the International Federation on Ageing (IFA) launches "Targeted Communications: Worth the Shot" a white paper which argues that current public health campaigns on adult vaccination are failing one of the most vulnerable at-risk populations who contribute to the social and economic fabric of nations: older people.
The "Adult Vaccination: Fighting the Flu through Targeted Awareness Campaigns" expert meeting, convened January 2019 in Berlin, Germany, served as a platform that brought together experts in ageing, public health and immunisation together with communications professionals to gain a deeper understanding of good communication practices that could help to raise vaccination public awareness.  These experts from ten countries determined that in an increasingly digital world, communication based on listening and understanding the target population of older people at at-risk groups is critical to ensuring easy and accessible vaccines that help to prevent infectious diseases such influenza.
"Targeted Communications: Worth the Shot" delivers a number of key messages:
Stop assuming: Older people are not a homogenous group, therefore a "one size fits all" approach or unified message is not the answer to improving influenza vaccination rates.
Tailor and target the message: Communication strategies should be created with the population of at-risk groups in mind, with messages framed in terms of vaccination gains. The values, roles, responsibilities, and specific concerns of older people pertaining to influenza vaccination must be factored into campaign planning and communication strategies.
Be transparent: When forming messages about vaccines, credibility is heightened by describing risks, citing reputable sources, identifying experts, and providing extra detail where possible.
Use digital media: Researchers and authorities who often consider social media as a less "prestigious" platform must re-evaluate the latest trends and place value in a social media pipeline that spreads the message of the importance of vaccination.
Get personal: A new narrative surrounding vaccination in the form of personal stories or testimonies that frame the importance of vaccination should be used as part of the larger communication strategy to increase uptake rates.
Educate and do better: Ongoing measurement and evaluation of targeted communication strategies allows organizations to assess aspects of strategies that worked, and aspects that did not, which can further help to fine-tune targeted approaches for future strategies.
Communication strategies are too often based on the assumption that if people are simply given the evidence supporting influenza vaccination, it will result in the decision to be vaccinated.  Unfortunately, it is not always this simple.
"The IFA believes that multi-disciplinary discussions are key to developing effective strategies to increase adult vaccination rates" says Dr. Jane Barratt, Secretary General of the IFA.  "Organizations and governments must acknowledge and evaluate their current strategies alongside experts in communications to determine areas that are working and improve those which are not."
Krystle Lai and Daniza Mahenthiran of Evoke Kyne reflected on the importance of public health communications strategies and noted that "the white paper effectively highlights the importance of patient centricity; engaging and truly hearing the voice of the patient community is critical in driving meaningful, lasting and positive change."
Ms Kimberley Littlemore, Creative Director of eHealth Digital Media and award-winning former BBC filmmaker says "This white paper clearly identifies the essential arguments for measuring and evaluating communication strategies and reflects the time spent in really understanding how they contribute to good communication and driving behavioural change.  Anyone considering a public health engagement strategy should read this carefully considered paper and take note!"
At the heart of the white paper is the urgent need to work with policy makers and practitioners to help maintain and improve the health and functional ability of older people through influenza vaccination.  Dr Alex Kalache, Co-President, ILC-Global Alliance says that "the Global Alliance of International Longevity Centres highly values reports such as this.  As an ageing organization, it is imperative that awareness is raised about the importance of influenza vaccination, and that it is shared in the most effective way to older people.  I encourage other ageing organizations to use the knowledge gained from this white paper to form impactful communication campaigns that ensure those most at-risk to influenza receive the message."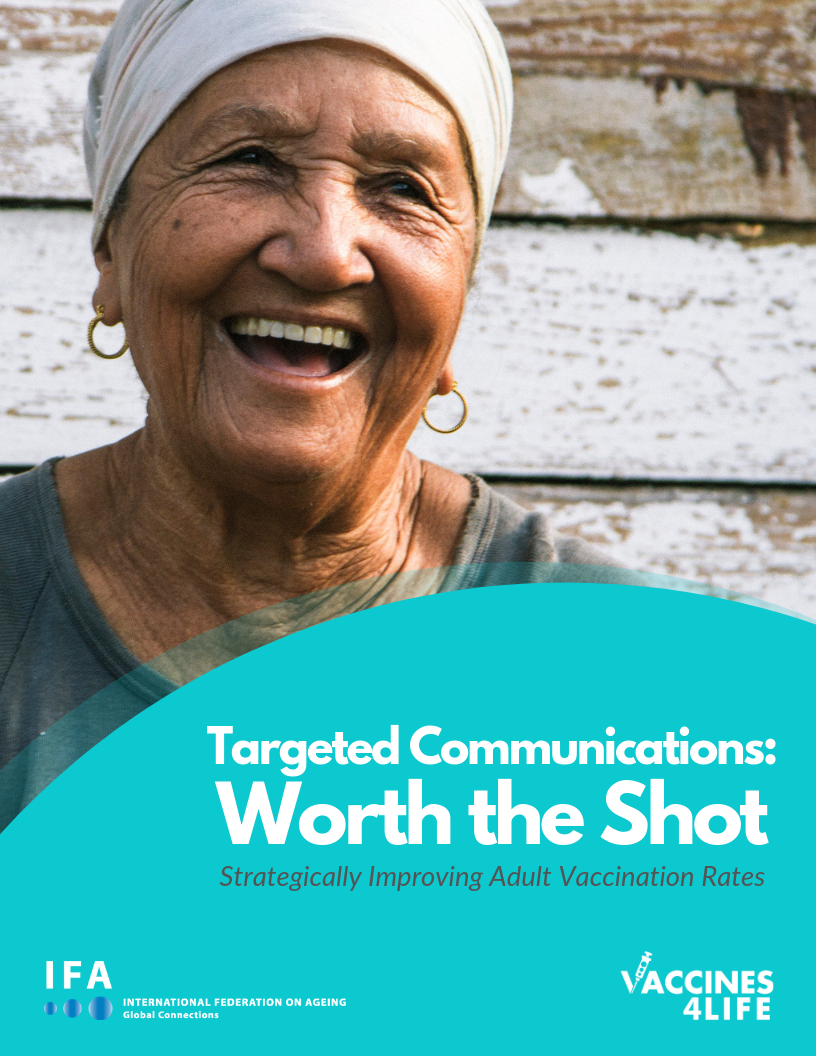 To read the full report, click here.
For media enquiries, please contact Paula Colaso at pacolaso@ifa-fiv.org
This project was funded through an unrestricted educational grant from Seqirus.
—
About the International Federation on Ageing: The International Federation on Ageing (IFA) is an international, non-governmental organization (NGO) with a unique membership base comprising government, NGOs, academics, industry, and individuals in over 70 countries.  Now over 45 years old, the IFA has become known as a leading and innovative organization that works across disciplines and sectors toward common goals that improve the lives of older people.  Through the IFA's formal relations with the World Health Organization (WHO) and general consultative status at the United Nations and its agencies, the IFA is in the position to advocate directly with member states and contribute to and inform intergovernmental dialogue.
About the IFA's Vaccines4Life (V4L) Program: V4L aims to help build a world where healthy ageing and functional ability of older people are maintained through strong vaccination uptake rates.  The program has grown to be one of the leading voices and advocates for adult vaccination, working at global, country and regional levels with the aim of unifying the message and actions across to stakeholders to drive policy and practice change.  V4L expert meetings and summits are convened as platforms to build a sustainable advocacy network and strategy that focus on specific barriers preventing a more comprehensive approach to changing policy.
The IFA World Coalition on Adult Vaccination acts as a focal point to bring together and disseminate good practice as well as consolidate the voices of experts and their organisations.  The Coalition formally comments on and highlights high level strategies at the WHO, United Nations, and similar agencies, and elevates the critical policy focus through consensus statements and campaigns.