Shingles Awareness Week 2023 (Global)
Influencing Action on Shingles Vaccination Policy

Older adults are at the highest risk of Shingles infection, with 24-30% of individuals developing shingles over their lifetime. As individuals age, the waning of their immune system prevents immune-response to varicella zoster virus allowing for reactivation of the virus in later years. Additionally, older adults are more likely to have additional immunosuppressive conditions leading to comorbidity with shingles. Without preventative interventions, Shingles can cause painful, debilitating symptoms that can limit the functional ability of individuals and place additional burdens on healthcare systems.
Vaccination has proven effective in preventing shingles and its complications for years post-vaccination. The prevalence of shingles in populations will continue to impact a significant proportion of older people if there is no change to supportive policy. As vaccination remains the most effective preventative measure for shingles, there is an urgent need to have shingles vaccination included in national immunisation programs and supportive policy. This promotes vaccination throughout the life course, thus providing a mechanism for preventative care and healthy ageing.
Influencing Action on Shingles Vaccination Policy
Eamonn Holmes OBE shares his experience with shingles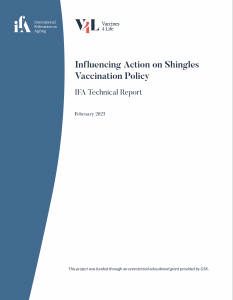 Shingles, also known as herpes zoster, is a particularly debilitating vaccine-preventable disease (VPD) which significantly impacts a person's function and quality of life. Check out the technical report to learn more.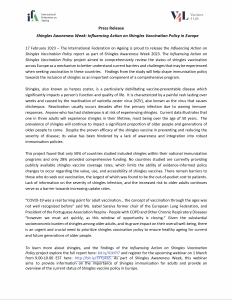 17 February 2023 – The International Federation on Ageing is proud to release the Influencing Action on Shingles Vaccination Policy report as part of Shingles Awareness Week 2023. The Influencing Action on Shingles Vaccination Policy project aimed to comprehensively review the status of shingles vaccination across Europe as a mechanism to better understand current barriers and challenges that may be experienced when seeking vaccination in these countries. Findings from the study will help shape immunisation policy towards the inclusion of shingles as an important component of a comprehensive program.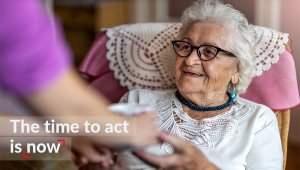 Call to Action: Influencing Action on Shingles Vaccination Policy in the European Union
The IFA is calling on policymakers, healthcare authorities, healthcare professionals and civil
society organizations to act on the following:
• Advocate for and prioritize the inclusion of Shingles vaccination within national immunization
programs, including the provision of funding to reduce barriers to access.
• Promote new surveillance methods that collect robust, age-disaggregated data on rates of shingles
vaccination. Mobilizing this data to better understand the cost/benefits of largescale vaccine
campaigns and setting clear coverage targets.
• Develop and disseminate information that can help to increase the awareness of shingles, including
the severity of shingles infection and the increased risk it poses to adults aged 50 years and older as
well as individuals who are immunocompromised.
• Improve and expand pathways to vaccination through non-traditional vaccinators such as pharmacists
and nurses

Caption:
Join @IFAgeing and Dr. Jean-Paul Stahl for the Influencing Action on Shingles Vaccination Policy Webinar taking place on 1 March at 9.00 EST. Learn more about Shingles infection, current vaccination policy in the EU, and the crucial role that immunization plays in safeguarding the health of older adults. Register here: https://bit.ly/3XxWkGl
#IFA #V4L #HealthyAgeing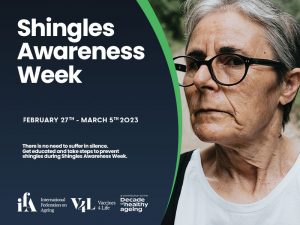 Caption:
Join @IFAgeing and Dr. Jean-Paul Stahl for the Influencing Action on Shingles Vaccination Policy Webinar taking place on 1 March at 9.00 EST. Learn more about Shingles infection, current vaccination policy in the EU, and the crucial role that immunization plays in safeguarding the health of older adults. Register here: https://bit.ly/3XxWkGl
#IFA #V4L #HealthyAgeing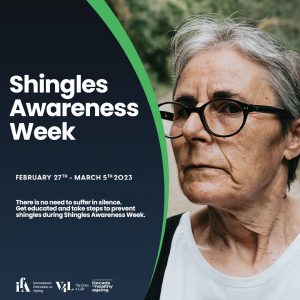 Caption:
Join @IFAgeing and Dr. Jean-Paul Stahl for the Influencing Action on Shingles Vaccination Policy Webinar taking place on 1 March at 9.00 EST. Learn more about Shingles infection, current vaccination policy in the EU, and the crucial role that immunization plays in safeguarding the health of older adults. Register here: https://bit.ly/3XxWkGl
#IFA #V4L #HealthyAgeing