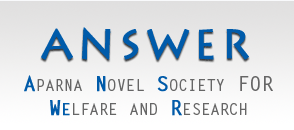 Aparna Novel Society for Welfare And Research strives to better the welfare of the underprivileged sections of the Indian society.  Its mission statement is to nurture, educate and enrich the poor and needy and to provide medical and spiritual help to the elderly and persons with infirmity.
ANSWER aims to give an emotional support to orphans, street children or those raised in the economically backward sections and regions.  The organization provides also sponsorship to individuals for higher education, medical treatment or any such activities which bring in purpose and quality to their lives.
For more information please visit the website.