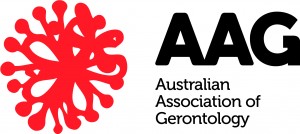 The Australian Association of Gerontology (AAG) is a voluntary, not-for-profit organisation of professionals interested in understanding and managing the impact of ageing in Australian society. Gerontology is the understanding, through scientific study, of the processes and the phenomena of ageing.
AAG's Mission is to expand knowledge of ageing, with the purpose of improving the experience of ageing.  To achieve this Mission, the AAG provides leadership in:
promoting and supporting research
promoting and providing information and education
encouraging informed debate and policy development
developing partnerships and promoting networking opportunities.
The AAG is governed by a National Council, with members elected at either state or national level. The current Council includes academics, clinicians, managers and service providers.
For more information, visit the AAG website.