Webinar 202: Walking the Age-friendly Talk – Case Studies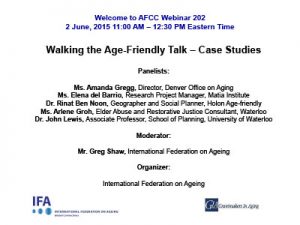 Age-friendly City and Community (AFCC) initiatives are commonly developed due to economic, social, political and environmental challenges and barriers within a community.
Enabling project success is often dependant on the lessons learned across sectors and AFCC networks, and those actively seeking to learn from others can often minimize risks and maximize opportunities through collaboration.
Knowledge mobilization and sharing is essential in ensuring positive project outcomes, as well it develops a world-wide community of age-friendly programs and practice.  With support and unity across the AFCC network, one community's success can be translated to and adopted as global success for others.
A video recording of the webinar and the presentation slides can be found at the links below: