Webinar 203: AFCC Program Strategies and Implementation – A Government Perspective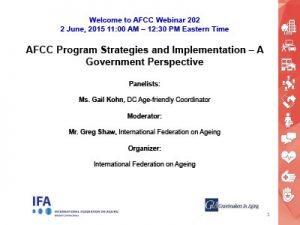 Sustainable Age-friendly City and Community (AFCC) initiatives require a strategic plan firmly based on a community assessment of the environment that has buy-in and support from the appropriate level of government, successful implementation and a finely tuned method of evaluation to inform further development.
Some AFCC programs are built upon the understanding of how current policies meet the principles and practices of the WHO suggested eight domains (Outdoor spaces and buildings; Transportation; Housing; Social participation; Respect and social inclusion; Civic participation and employment; Communication and information; Community and health services).  This architecture helps to frame future dialogue among stakeholders, which is often lead by older people.
The sustainability of an age-friendly initiative must be based on a framework that takes into consideration communities views and values, changing nature of demography, the available resources,  and how milestones will unfold overtime in keeping with changes in the social and political environment.
A video recording of the webinar and the presentation slides can be found at the links below: