Webinar 301: The Evidence Behind Effective Age-friendly Change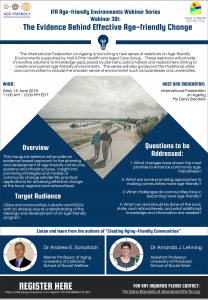 On 15 June 2016, the IFA with support from the Hall & Prior Health and Aged Care Group launched a new series of webinars on Age-friendly Environments. This inaugural webinar provided an evidence-based approach to the planning and development of age-friendly community systems and infrastructures. Insight into promising strategies and models of community change identified practical applications for achieving effective change at the local, regional and national level.
The authors of "Creating Aging-Friendly Communities" Dr Andrew Scharlach (Kleiner Professor of Aging at University of California) and Dr Amanda Lehning, (Assistant Professor at University of Maryland) answered the following questions:
What changes have shown the most promise to enhance community agefriendliness?
What are some promising approaches to making communities more age-friendly?
What challenges do communities face in becoming more age-friendly?
What can and should be done at the local, state, and national levels, and what additional knowledge and information are needed?
A video recording of the webinar and the presentation slides can be found at the links below: