A 6 Country Scan on Diabetic Eye Disease Educational Materials and Treatment Options

Diabetes is potentially one of the most significant healthcare issues of our time, with wide-ranging social and economic implications for generations to come. Globally, the number of adults living with diabetes has quadrupled since 1980. Currently, more than twice as many Canadians are living with diabetes than in 2000. In 2021, ~2.9 million Canadians aged 20 to 70 years had diabetes and an estimated 6.1% lived with pre-diabetes. Those living with diabetes are 25 times more likely to experience vision loss with over 1 million Canadians living with diabetes-related eye damage that can lead to blindness.
Treatment options for diabetic eye diseases have changed dramatically in recent years as new therapeutics have emerged. Overall, however, there is limited patient education and resources on the available treatment options in Canada and more broadly.
Within an already fiscally constrained health system, there is an urgent need for Canadians at risk of diabetes- related vision complications to be educated and informed of available treatment options for common conditions, such as diabetic retinopathy (DR), diabetic macular edema (DME), cataracts, and glaucoma, all of which can lead to vision impairment or even blindness. There is a need for targeted messages and information for patients and their families concerning the management and access to safe, effective, and appropriate treatment options for their condition as it changes over time.
Maintaining and improving the vision of Canadians through appropriate therapeutic interventions is a good return on investment for society across all ages, and to mark this World Sight Day, IFA is proud to contribute to focusing attention on the global issue of eye health through the study below.
The Study
The key objective of this study is to improve patient awareness and knowledge of the management and treatments for eye conditions associated with diabetes.  The study analyzed patient educational materials related to diabetic eye diseases (DEDs) across six countries (Australia, France, Germany, Spain, Italy, and UK) with the aim of identifying elements of good practices, as well as potential gaps and barriers to successful uptake of the available materials.
For each country, various information was obtained, including the key demographics, population living with diabetes, and vision health coverage across national/regional insurance plans. The study also identified the various treatment options for diabetic eye diseases, the availability of patient education materials and information, including the variety of organizations that develop and delivery these resource materials.
Evidence To Action
Findings from the "Leaving No Patient Behind" Study
Victoria Adepitan | Project Officer, IFA
Leaving No Patient Behind
A 6 Country Scan on Diabetic Eye Disease | Educational Materials and Treatment Options
International Federation on Ageing
Social Media Kit
The IFA has created the following Social Media kit to help organizations for older adults share impactful information to their members.
Post:
The IFA announces the launch of a critical study that analyzes the patient educational materials related to diabetic eye diseases (DEDs) in 6 countries. Be the first to learn about the elements of good practice around the dissemination and uptake of patient education materials for those living with DEDs: bit.ly/3Crz2th 
#IFA #EyeHealth #LeavingNOPatientBehind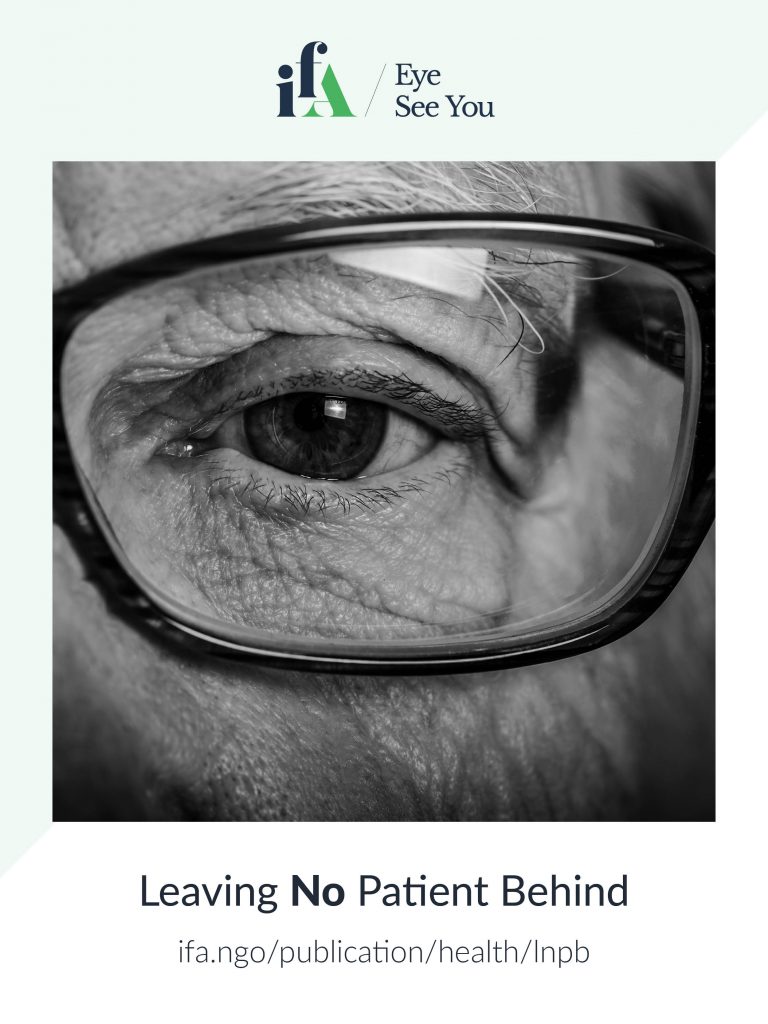 Post:
The IFA announces the launch of a critical study that analyzes the patient educational materials related to diabetic eye diseases (DEDs) in 6 countries. Be the first to learn about the elements of good practice around the dissemination and uptake of patient education materials for those living with DEDs: bit.ly/3Crz2th
#IFA #EyeHealth #LeavingNOPatientBehind
Post:
Canadians are increasingly at risk of vision loss due to complications related to diabetes. Explore the technical report from a 6-country study IFA has launched and join the movement to improve the vision health of older adults: bit.ly/3Crz2th
#IFA #EyeHealth #LeavingNOPatientBehind