Open Ended Working Group On Ageing: Resolution And Background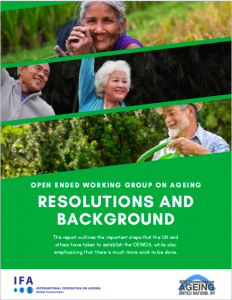 By Ms. Frances Zainoeddin, United Nations Representative (New York), International Federation on Ageing
Discrimination based on age violates the basic human rights of older people and continues to be tolerated around the world. This is of particular concern when considering the world's ageing population, with people aged 60 and older expected to reach 2.1 billion by 2050.
Established in 2010, the OEWGA is a UN working group with the purpose of strengthening the protection of the human rights of older people around the world. IFA UN Representative Frances Zainoeddin has put together a clear and thorough summary of the history, resolutions and actions of the OEWGA. This report is without a doubt a ground-breaking snapshot of history which has been in a haze for many organizations and authorities in the effort to find ways to push forward and engage with member states to advocate for the rights of older people.
This report provides evidence to urge governments resistant to mandating a Convention on the rights of older people to better understand the history and steps taken to strengthen the rights of older people. As the IFA and global partners work to promote a convention on the rights of older people, it is our hope that this document provides background and context to this important movement.
Open Ended Working Group On Ageing: Resolution And Background