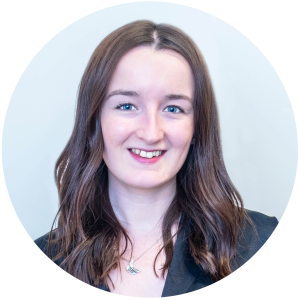 Cera joined the IFA team in 2022 as a Program Officer. As a recent graduate from the University of Toronto with a Master of Arts in Political Science, specializing in the Political Economy of Development, Cera uses her knowledge of sources of inequality to advocate for the rights of older adults. She also holds two bachelor's degrees from the University of Calgary in Community Rehabilitation and Disability Studies and in Political Science. While at the University of Calgary Cera's passion for human rights advocacy was sparked and she had the privilege of learning from many people with lived experiences of disability.
Throughout the Covid-19 pandemic, Cera worked in various assisted living facilities as a recreation leader before stepping into a research role at the Cumming School of Medicine at the University of Calgary researching long-term care workers' experiences of moral injury and distress during the pandemic. She had the opportunity to co-create a short animation that used long-term care workers' own words to demonstrate the toll the pandemic has had on their mental health and has published and presented on the impact that dignity has on people with dementia. Cera is particularly interested in global health policy, structural violence, and healthy living across the lifespan. She is thrilled to be working with the IFA in a position that allows her to continue to explore her interests and grow as a rights advocate.
In her free time, Cera enjoys hiking, cooking, and exploring Toronto.