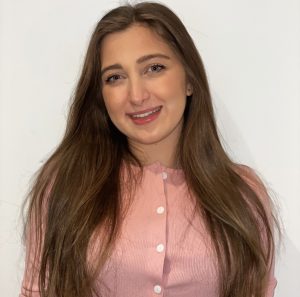 Dana joined the IFA team as a Project Officer in 2021. She holds a Bachelor of Health Science degree with a specialization in Population and Public Health from the University of Ottawa. Growing up, Dana was strongly involved in her community and has volunteered in various organizations. Throughout her degree, she became increasingly aware of the global health issues that exist in the world and became eager to make a difference. Her key areas of interest include health promotion, social determinants of health, community development, advocacy, and addressing health inequities.
Dana has worked on various research projects during her degree, including brain health, mental health, and health issues in marginalized communities.  She conducted her thesis project on Parkinson's Disease where she explored the role of neuroprotective chemicals on MPTP-induced Parkinson's Disease zebrafish models. She has also worked as Youth Program Facilitator in which she developed a Healthy Relationship program for newcomer and immigrant communities.
Dana is a very passionate individual that hopes to create a healthy and safe environment for people to live in. She shares the IFA's vision to promote healthy ageing and protect the rights of older people.
In her free time, Dana loves to socialize and meet new people. She holds social nights for patients at the hospital and plans weekly visits with people living with dementia.  Dana is also a great kitchen enthusiast that loves to bake and cook. She also enjoys outdoor activities, particularly hiking and biking.
_________________
Contact:
+1 416 342 1655
delsaid@ifa.ngo