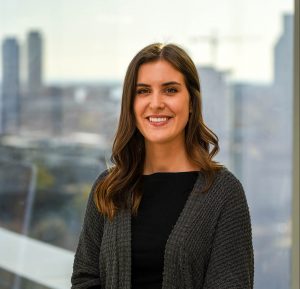 Megan Acton joined the IFA team as a Project Officer in February 2018, leading the Vaccines 4 Life, Hearing, and IFA United Nations projects.
From 2016 to 2017, Megan spent a year abroad in London, UK to complete her master's degree in Ageing Society, taught by the institute of Gerontology at King's College London.  There, she gained a strong understanding of the experiences of ageing societies and policies for an ageing world, and completed her final dissertation on "How Age-Friendly is London, UK to Older Women in Kensington and Chelsea?"  Prior to her master's degree, Megan completed an Honours BA in Health Studies and Gerontology from McMaster University.
Megan has experience working in the ageing field within the areas of retirement living and long-term care and completed an internship for Public Health England where she assisted the Older People Team to provide evidence-based research and national recommendations for the UK Department of Health.  For almost a decade, Megan has been interested in the experiences older people face and how she can help to improve those experiences.  Megan is thrilled to be working for an organization in the field of ageing that strives for a world of healthy older people whose rights and choices are both protected and respected.
_________________
Contact:
+1 416 342 1655
macton@ifa.ngo