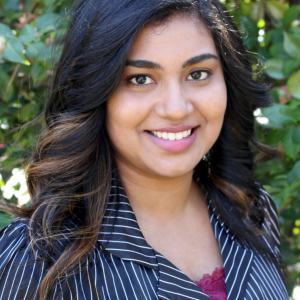 Supriya Venigalla is a Senior Project Officer, having been promoted from Project Officer. Supriya joined the IFA team in 2020, and holds a Master of Public Health (MPH) specializing in Health Policy and Management from the University of Georgia in the United States. Supriya also received her Doctor of Medicine (MD) and has since worked in various roles within the fields of medicine and public health. Most recently, she was an Operations Manager in a large private hospital. Previously, as a Health Educator at the University of Georgia, she was responsible for coordinating research and policy on various statewide healthcare programs.
During medical school, Supriya was the lead researcher in a nation-wide health promotion project, which sparked her interest in the field of public health. She has lived and worked in India, China, the West Indies, the United States, and Canada. She is interested in addressing health disparities and promoting equity for vulnerable populations like older adults.
Supriya has written health and medical articles for several publications in the United States, which honed her skills in translating scientific information into easily digestible knowledge.
Supriya is an avid reader, passionate about history and social justice issues, and has also been formally trained in Latin dance.
_________________
Contact:
svenigalla@ifa.ngo