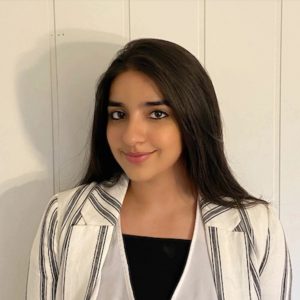 Zaineb joined IFA as a Project Officer in April 2021. She holds a Master's in Management of Applied Science (MMASc) in Global Health Systems and a BSc Honors Specialization in Neuroscience, both from the University of Western Ontario. Through her studies, she gained an interest in addressing health disparities and inequalities and wishes to tackle complex health challenges with holistic solutions.
In the past, Zaineb has been involved with various research projects examining visual health, clean water access, and creating infectious disease preparedness policies. In the summer of 2020, she completed a practicum as a research analyst for a public health consulting firm. She worked on various public health projects such as researching COVID-19 guidelines and creating communications to promote health literacy. She also volunteers her time with various organizations and councils to address mental health challenges. Zaineb is excited to continue her work in global health by working at IFA to address challenges faced by older persons.
Zaineb loves to travel, is an avid reader, and enjoys hiking and running. She also enjoys teaching new words to her talking Quaker parrot.