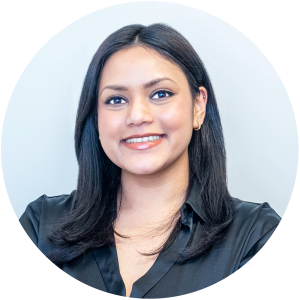 Sharon joined the IFA team as a Project Officer in 2022. She completed her Bachelor in Honours Life Sciences at McMaster University. She also holds a Master in Management of Applied Science with a specialization in Global Health Systems from the Schulich School of Medicine & Dentistry at Western University. Sharon is currently completing a concurrent master's degree program at Brock University. She has completed her Master in Business Administration and will begin her Masters of Public Health this fall.
Throughout her academic career, Sharon has become very passionate about addressing global and public health inequities from a systems-level approach. She is interested in public health policy research to help improve the health and well-being of marginalized populations. When working for a Public Health consulting firm as a research analyst, she assisted in health policy research, health promotion, and the creation of knowledge translation tools. Sharon has gained health administration experience when working for a home care agency where she coordinated patient home care services. She has recently completed an extensive project for the Globe and Mail, where she was a primary researcher for their Annual Business Report.
During the COVID-19 lockdowns, Sharon has learned to love outdoor hiking and has enhanced her cooking skills. In her free time, she enjoys being out in nature.