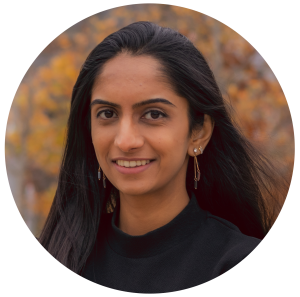 Urvashi Rathod joined the IFA team as a Project Officer in 2022. She graduated from the Schulich School of Medicine & Dentistry with a Master of Management of Applied Science in Global Health Systems from Western University. Urvashi also holds an Honours Bachelor of Science from the University of Toronto, specializing in Biology.
 Guided by her interest in social determinants of health, Urvashi joined a non-profit organization advocating to influence government decision-makers on policies and programs to end poverty both domestically and internationally. She has leveraged her interest in volunteering to raise awareness about the issues facing vulnerable populations, such as Indigenous people, marginalized youth, elderly, and women.
 Urvashi's previous work experiences have allowed her to develop expertise in policy and data analysis, project management, knowledge translation, research, and stakeholder engagement. Recently, through her internship at a public health consulting firm, Urvashi was involved in coordinating interdisciplinary projects with public and private sector clients and international NGOs.
Urvashi is passionate about improving global healthcare systems by mitigating inequalities, building capacity, and driving sustainable change. She believes meaningful changes in communities stem from innovation, bridging research/policy to practice, and allyship. Urvashi, therefore, aspires to become a global leader to advocate for, empower, and create tangible differences in the health and wellbeing of marginalized communities worldwide, so they can live with dignity.
In her spare time, Urvashi is an avid reader, sports and fitness enthusiast, and enjoys baking.