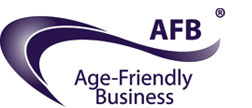 Inspired by the United Nations endorsed "Age-Friendly City" initiative, Age-Friendly Business is committed to building upon this noble foundation by inviting businesses to learn how to provide a more respectful and age-relevant customer experience for the age 50+.
Since 2003, the company has been helping professionals, businesses, and organizations learn about the evolving needs of the Boomer and Senior members of its communities.  Its programs and support services ensure that professionals and businesses have the knowledge and tools to provide a relevant, respectful and appropriate client experience for the age 50+ market, and with its designation, certifications, and promotional materials, are distinguished within their communities.
For more information please visit the website.