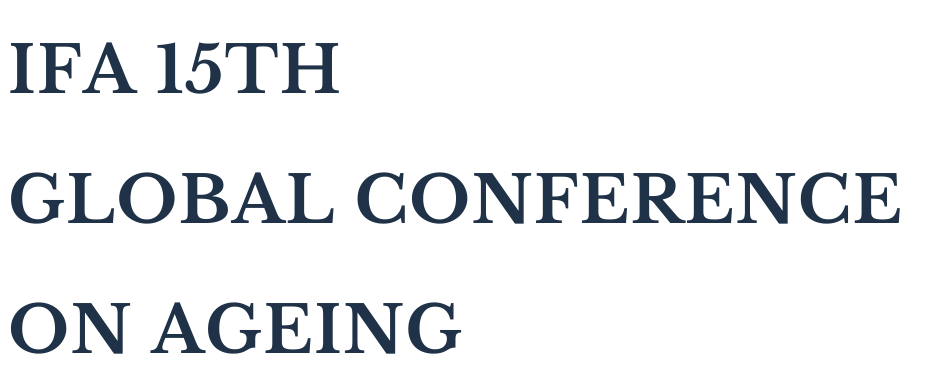 Looking Ageism in the Mirror
A robust older population is in many cases the hallmark of a highly developed society. Reflected in a healthy ageing population is society's dedication to push boundaries and reframe what is probable. Our consumer industries, however, paint a very different narrative. The fashion and beauty industries have long excluded older people from runways, magazines and campaigns, perpetuating negative stereotypes about ageing and harmful standards of beauty.  Although industry giants such as Gucci have taken steps towards age-inclusivity in their campaigning, older models remain vastly underrepresented in beauty advertisements. With an expanding older demographic, the proportion of citizens unable to identify with the current representations of beauty has increased.  In sidelining older consumers, this sector has not only been dismissive of the needs and desires of older people but has lost out on the "grey pound".  In a recent article published by the International Longevity Centre (ILC) UK, the exclusory behaviors of both the fashion and beauty industry was predicted to cost them close to 11 billion pounds.  Further to this, research conducted by the ILC UK revealed that "by 2040, people aged 50 years and over are expected to be this sector's key consumer base".   While this presents an opportunity for increased profit for the fashion and beauty industries, it paradoxically challenges this sectors' most profitable strategy, the "anti-ageing" and "youth-preservation" fear tactics.  These ageist marketing schemes not only perpetuate reductionist ideologies of ageing and beauty, they also create an "us" versus "them" generational complex. In a 2018 journal article published by IFA expert Dr. Lucie Vidovićová, the intergenerational conflict created by industries is explored further. Her work exposes the oversimplified storyline of ageing presented in social media and argues that these strategies are used to manipulate the behaviours of older and younger people. IFA works tirelessly alongside experts, NGOs and thought leaders to challenge these limiting perceptions on ageing and confront the discomforting gaps in the rights for older people. IFA's 15th Global Conference on Ageing, themed "Rights Matter", provides global leaders in the fields of ageing, health governance and public policy the platform to have 'game changing' conversations about ageism and the need for accurate and enabling representations of older people. For more information on the global conference please visit:  https://ifa2020.org/
Read More
Life Course Immunization: More Than Just Flu Season
Immunization is recognized globally as an effective means of preventing and minimizing the impact of infectious diseases such as influenza, pneumonia and shingles. An article in the Press Telegram "Senior Living: Scheduling your immunizations as you age" offers an informed perspective on the importance of vaccination throughout a person's life course. Dr. David Michalik, a pediatric infectious disease specialist in Long Beach, California said "vaccinations that you received as a child also can wear off over time, requiring revaccination or a booster shot to boost your immune system's 'memory.'" In the absence of revaccination or booster shots in later life and as the immune system "memory" declines, older adults are more susceptible to vaccine preventable diseases. This is particularly amplified in the presence of behavioural risk factors like smoking and/or chronic conditions including diabetes, cardiovascular disease, or respiratory ailments.  Although local vaccination schedules vary considerably, Dr. Michalik provided a general statement of recommended vaccinations for adults in the local situe: - 50 years or over: annual influenza vaccination, a Tdap (tetanus, diphtheria and pertussis) booster every 10 years, and two doses of the shingles vaccine; - 60 years or over: pneumonia vaccination; and - 65 years or over: annual high-dose flu vaccine can provide additional protection and is specifically developed for this age group. Global efforts to increase vaccination rates over the past few decades have resulted in a decrease in mortality of communicable diseases from 33% in 1990, to 25% in 2010. While European Union public health policies recommend at least a 75% rate of influenza vaccination among high-risk groups all countries, with the exception of the United Kingdom, are well below the target. In a report from the European Centre for Disease Prevention and Control (ECDC), under 50% of older French adults aged over 65 years reported being vaccinated against influenza in the 2014-15 season. An IFA led multidisciplinary expert meeting "Vaccination in France: Changing the Public Perception" in Lyon in December 2019 aimed to reconcile perspectives from important stakeholder groups in the current vaccination discourse and identify challenges and opportunities for improving participation in vaccination campaigns. Prof. Jean-Pierre Michel of Geneva University's Medical School reported during the meeting that effective adult vaccination schedules can support maintenance of functional ability and help prevent 2.5 million deaths annually due to communicable diseases. An underestimated benefit of both influenza and pneumonia immunization is the growing evidence of a reduction in cardiovascular complications including stroke and heart failure in adults over 65 years of age.  To learn more about secondary benefits of vaccination and related emerging research areas in cardiovascular and pulmonary diseases, contact IFA Experts Prof. Jean-Pierre Michel, Professor of Geriatric Medicine in Geneva, Switzerland, Prof. Catherine Weil-Olivier, Professor of Pediatrics at Paris Diderot University, or Prof. Antoni Torres, Professor of Medicine and Head of the Respiratory Intensive Care Unit at Barcelona University's Hospital Clinic. In addition, consider following the @Vaccines4Life Twitter page, and being involved with the World Coalition on Adult Vaccination, where stakeholders collaborate on a common agenda around a life course approach to vaccination, with special attention to later life.
Read More
Ageism in the Advertising Industry – Older People are being Ignored
In the advertising industry, where campaigns against racism, sexism and discrimination are tremendously common, ageism in its practices remains a huge issue. "It's a Peter Pan industry", says Bensman, an Italian, Florida-based senior writer who turned 57 this year. Fewer people rise to the top and the others just burn out and get let go. According to AdAge, in 2017, the majority (63%) of professionals in advertising, public relations and related services were under 45 years of age. 79 % employees in the advertising and marketing sector agree that the sector comes across as ageist.[i] Rory Sutherland, Ogilvy's Vice Chairman, explains this issue as below."Advertising, by failing to ally itself to any recognisable science or body of knowledge, does not really pay a premium for experience. Every argument, every point of view, has to be defended from scratch. This becomes increasingly frustrating with time." [ii] It does not stop there. In 2018, AARP analyzed a random sample of more than 1,000 images taken from news pages, social media channels and blogs. Although 46% of the U.S. adult population is aged 50 and older, only 15% of the images contain members of that age group.An additional myth perpetuated throughout society is that older people spend their money quite prudently. This misconception is debunked in a recent report from Nielsen,[iii] which explains that older people make up 49% of sales for consumer goods and services.  In fact, older people are the most valuable generation in the history of marketing, yet are ignored as only 5% of all advertising are targeted to adults aged 35-64. If only 5% is targeted towards this age group those over the age of 65, who arguably have the greatest spending power in our history are being completely overlooked by the industry.The world needs experienced, creative, older people in the advertising industry. Brands need to target not only a younger audience a greater priority in needed for older consumers. Ultimately, we need to achieve balance. Balance in the work place, balance in the audiences and, most of all, balance in our approaches to advertising and marketing. The IFA currently partner with WHO to host a series of webinars that are part of an ongoing dialogue to bring to knowledge, new ideas and innovation around age-friendly environments and to end ageism.The IFA also works alongside intergovernmental agencies and its members and supporters to combat ageism by: viewing all organisational priorities through the lens of equity; representation at the UN Open-Ended Working Group on Ageing; membership in the Global Alliance for the Rights of Older People; alignment of priorities with the WHO and UN; and committed to the central theme of "Rights Matter" at the IFA's 15th Global Conference on Ageing (1-3 November 2020).[1] https://www.campaignlive.co.uk/article/why-ageism-adlands-next-frontier/1416455 [1] https://www.directnewideas.com/magazine/?id=1352 [1] https://www.nielsen.com/us/en/insights/report/2012/introducing-boomers--marketing-s-most-valuable-generation/
Read More
The IFA brings together global experts and expertise to influence and shape age-related policy to improve the lives and to better all of society.
The IFA has a long established and wide-ranging network of member organizations around the world. The network extends to over 75 countries covering every region. Together these organizations represent over 80 million older people.