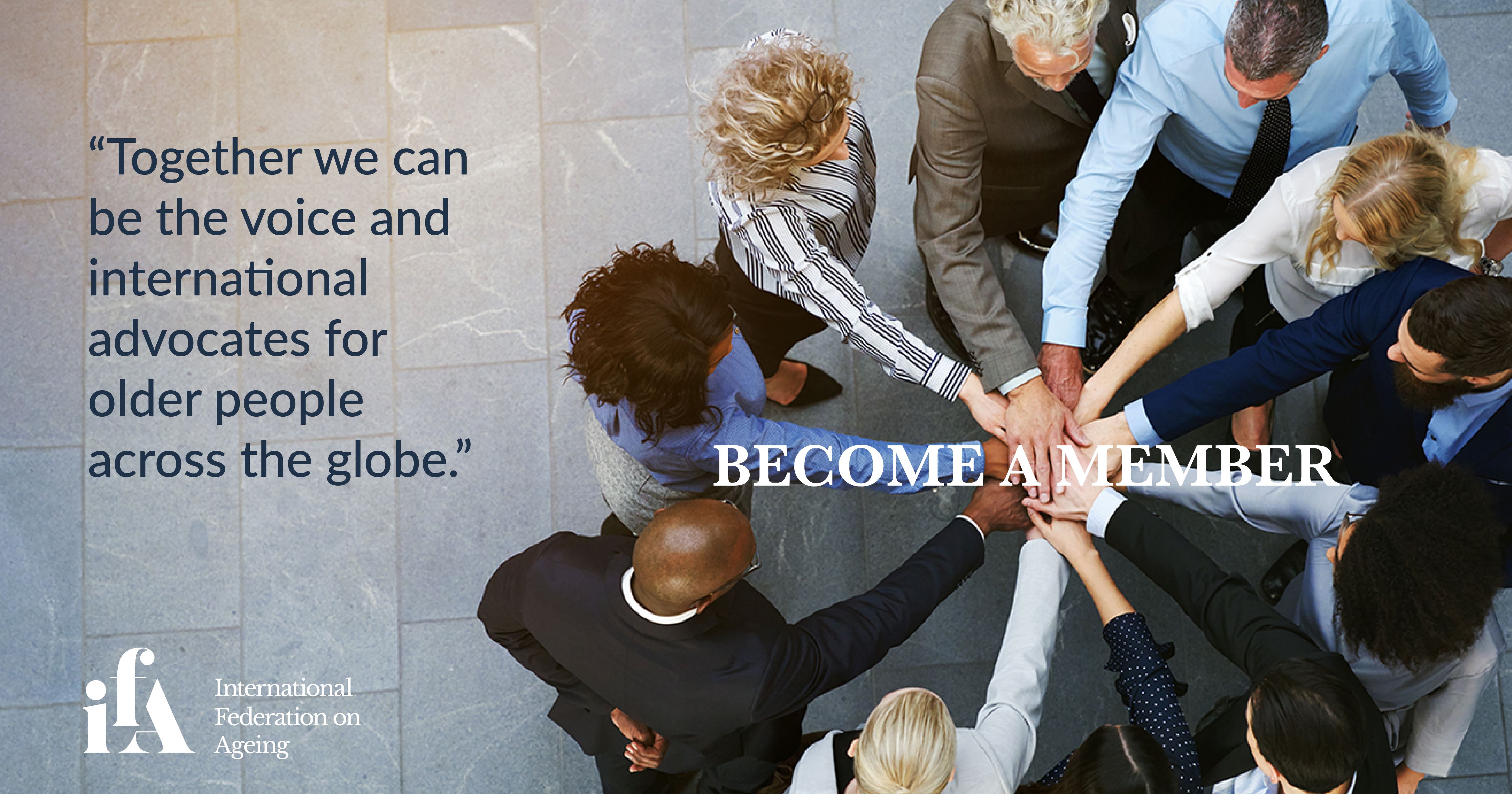 The IFA has a long established and wide-ranging network of member organizations around the world. The network extends to over 75 countries covering every region. Together these organizations represent over 80 million older people.
IFA – Driving the Agenda of the World's Ageing Populations
We are the international advocate for the needs of ageing peoples.  We bring together global experts and expertise to influence and shape age-related policy to improve the lives of our constituency, and to better all of society.
Process Your Registration
Three Categories of Membership
Full Members
Full Members comprise of local, regional, provincial/territorial or national not-for-profit or non-governmental organizations, private sector corporations, and individuals working with or representing the rights and interests of older people.  Fees vary depending on the total annual operating budget for your organization.  Full members are the only category of membership that can elect another IFA Member to be on the Board of Directors.
Associate Members
Associate Members are all individuals and sectors of society interested in understanding the issues and improving the lives of older people.  Associate members are able to attend member meetings, be appointed / elected to the Board and participate in other activities, but do not have the right to vote at any meeting or proceedings of the IFA.
Prime Members

Prime members shall be those corporations, partnerships, trusts, unincorporated organizations and individuals whose applications for admission as Patrons have received the approval of the Board of Directors of the Corporation.  Prime members  of  IFA pay an annual membership fee of $5,000 (Tier II) or $10,000 (Tier I) per annum.
Membership Benefits
Promotion of IFA Members projects and/or organization in  IFA VoltAGE: Global Ageing Newsletter that is disseminated monthly connecting with IFA's growing global community, the IFA Website and on the IFA Network Partners Page.
Access to the IFA "Members Only" section of the website.
Opportunity to be nominated and elected to the IFA Board of Directors.
Personal IFA updates and information via email on new reports and initiatives the IFA or the IFA with the World Health Organization are working on.
Reduced registration fees to IFA Global Conferences occurring every two years.
Opportunities to be connected and/or collaborate with other IFA Members and Network Partners. Please see the full list here.
For more information about IFA Membership, fees, payment options, please read the IFA Membership Information and Application Form.
Notes
Developing World: Where an applicant in any category, is from the developing world, the membership fees will be fifty percent (50%) of the schedule fee. This category includes the World Bank Group Listing of Low-Income Economies.
Memberships are based on an annual payment and are not subject to refund.
All the fees are expressed in US dollars.