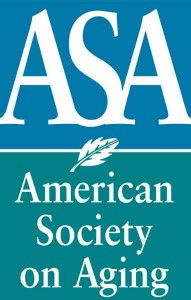 Founded in 1954 as the Western Gerontological Society, the American Society on Aging is an association of diverse individuals bound by a common goal: to support the commitment and enhance the knowledge and skills of those who seek to improve the quality of life of older adults and their families. The membership of ASA is multidisciplinary and inclusive of professionals who are concerned with the physical, emotional, social, economic and spiritual aspects of aging.
ASA offers professional education, outstanding publications and online information and training resources that are nationally recognized. The breadth and depth of information available from ASA's conference, webinars and publications, and the diversity of perspective and experience that characterizes ASA's membership, are unmatched by any other professional organization in the field.
For more information, visit the ASA website.