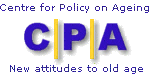 The Centre for Policy on Ageing, established in 1947 by the Nuffield Foundation, has a long and distinguished record as an independent charity promoting the interests of the older people through research, policy analysis and the dissemination of information.
The Centre aims to raise awareness of issues around all aspects of ageing and to support good practice. Its overarching focus is to discover and advocate what older people themselves want and needs.
An important and unique aspect of the Centre's work is to act as a hub to encourage the creative exchange of thinking and information on ageing issues. A key element of this work is making knowledge on ageing issues widely accessible to share learning and underpin policy initiatives to support older people. CPA collaborates with national and local government, practioners, the academic community, voluntary groups and older people to sustain a network of learning around ageing.
For more information, visit the website.