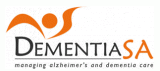 As a leading South African authority on all forms of Dementia, Dementia SA strives to minimize the impact that Dementia has on individuals, families and communities. By taking an innovative approach to service delivery that includes all relevant constituencies, Dementia SA strives to serve all people affected by Dementia. The core services of Dementia SA include a 24 hr National Helpline, family counseling, capacity development through training, education, skills enhancement, awareness, lobbying and advocacy and partnership development networks.  Dementia SA places premium on providing services in under-developed areas and vigorously advocates the rights and dignity of those living with Dementia. All services are supported by ongoing research.
Dementia SA was formally registered in 2006 as a non-profit organization and was awarded Public Benefit Organisation (PBO) status and holds B-BBEE status level 4.
For more information please visit the Dementia SA website.