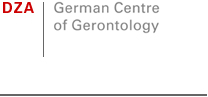 The German Centre of Gerontology (the acronym DZAcomes from its German name "Deutsches Zentrum fuer Altersfragen") is an institute for scientific research and documentation in the fields of social and behavioral ageing research. The bye-laws of the institute declare its purpose to : increase, collect, evaluate, process and disseminate knowledge about the living arrangements of ageing and old people in order to use this knowledge for scientifically independent consultation in respect to the challenges of an ageing population for society and social policy."
The DZA is organized in three: Research, Social Reporting and Policy Advice, Information Services.
The DZA is funded by the Federal Ministry for Family Affairs, Senior Citizens, Women and Youth (Bundesministerium für Familie, Senioren, Frauen und Jugend). In addition, projects are funded from other sources. In the years 2001 to 2003 the building of the DZA was completed modernised.
For more information, visit the German Centre of Gerontology website (English version).