2019 Webinars
Mobilizing to Support the Rights of Older Persons
The International Federation on Ageing (IFA), the Grandmothers Advocacy Network (GRAN), and the International Longevity Centre Canada (ILC) are pleased to announce the next webinar discussing the Rights of Older Persons.
This webinar will
Explore the pervasive tendency to discount the rights of older people in Canada and in the global arena
Present a case study on the rights of older women/grandmothers in sub-Saharan Africa
Argue that a UN Convention on the Rights of Older Persons is needed to protect and enhance older person's rights
Discuss how we can take action steps to create momentum and Canadian leadership in preparing and ratifying the Convention.
Now Available: Webinar Recording | Presentation Slides
Presented by:
Ms Peggy Edwards, Grandmothers Advocacy Network
Margaret Gillis, President, International Longevity Centre Canada
Have Your Voice Heard Decade of Healthy Ageing
As mandated by its Member States, the World Health Organization (WHO) is developing a global proposal for a Decade of Healthy Ageing 2020-2030, to be launched in October 2020.
You can give your suggestions directly to WHO at this Webinar organised jointly by the International Federation of Ageing (IFA) and HelpAge International (HAI) or learn how you can provide your input and feedbacks online here.
Webinar Outline
Introduction to The Decade of Healthy Ageing
Hearing from you: your voice will be shared with the WHO Member States and other partners to be considered in the finalization of the document
Summary
Now Available: Webinar Recording | Presentation Slides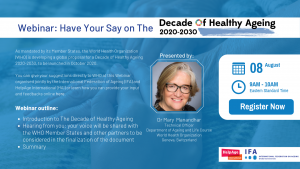 Presented by:
Dr Mary Manandhar, Technical Officer,  Department of Ageing and Life Course, World Health Organization