Asociación Colombiana de Gerontología y Geriatría: Vacunación para Adultos en Colombia (Adult Vaccination in Colombia)
Colombia, enfrenta grandes retos en envejecimiento y vejez, dados por la baja tasa de natalidad en comparación con el aumento en la expectativa de vida. Actualmente existen más personas mayores de 60 años que menores de 5 años en el país y en tan solo tres años por cada dos adolescentes existirá una persona mayor. Tan solo en Bogotá, existirá un incremento del 55% de la población adulta mayor en el 2020, lo cual es un Logro como sociedad, pero a su vez implica grandes retos y desafíos en salud; en especial cuando hablamos de prevención.
La dependencia funcional y la discapacidad, generan un panorama sombrío dentro las expectativas que tenemos frente a nuestra propia vejez, lo cual se ve reflejado en los datos que nos da la Organización Panamericana de la Salud: " Para el 2020, se habrá incrementado en un 47% la prevalencia de necesidad de cuidados en mayores de 60 años en América latina, es decir, que más de diez millones de personas de 60 años y más requerirán asistencia cotidiana en nuestra Región" Si a esto le añadimos que cada día aumenta la cifra de personas mayores de 100 años concentradas principalmente en las grandes ciudades, esto genera desafíos personales y sociales desde el autocuidado y la prevención de la dependencia funcional.
Lamentablemente, las neumonías y las enfermedades respiratorias, siguen siendo la puerta de entrada de personas mayores al sistema de salud en varias regiones del país, donde se consulta por urgencias cuando existe alguna de estas afecciones, no antes dentro de un plan de autocuidado o "geriatría preventiva" para planear acciones en salud en la vejez; es por esto que en Colombia cada 2 horas muere un colombiana mayor de 15 años por neumococo; 73.700 casos de enfermedad neumocócica por año y por culpa de la neumonía se pierden 26 años de vida saludable por cada 1.000 colombianos mayores de 15 años.(D. Rosselli. Journal of infection and public health, 2012 Oct, 5 (5):354-9).
Las campañas emergentes de vacunación llegan a las personas más funcionales y que pueden asistir a un centro médico para su aplicación, dejando desprotegidos a los más vulnerables y frágiles; esto sumado a las barreras en salud para acceder a un esquema de vacunación completo de acuerdo a lo propuesto por el CDC a nivel mundial y los mitos o las creencias del personal de salud frente a la eficacia de las vacunas en la vejez o a los efectos adversos, hacen que el personal de salud no recomiende la vacunación en personas mayores, lo cual genera grandes desafíos para el sistema frente a la educación en salud desde la prevención.
El aumento de residencias geriátricas y hogares de cuidado no se asocian con un plan de cuidados con un plan de vacunación al ingreso de las personas a los centros y por otro lado así como hablamos de "Cuidar al Cuidador" las abuelas cuidadoras de sus nietos los llevan a vacunar pero pocos se encargan de vacunar a las abuelas cuidadoras.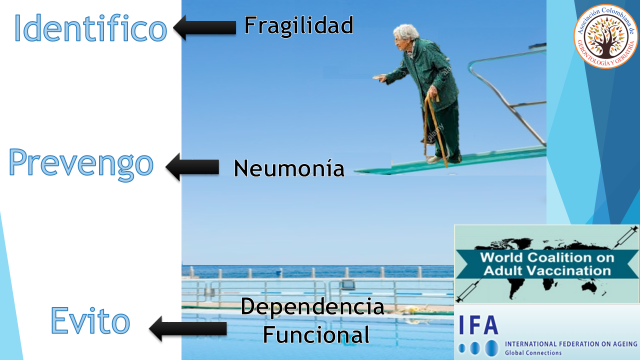 En un día de estar en cama por una hospitalización luego de los 70 años, se puede perder el 3% de la masa muscular total, es por esto que prevenir neumonías impacta en la calidad de vida en la vejez. Afortunadamente este tema acompaña a la Asociación Colombiana de Gerontología y Geriatría en todos los eventos académicos y científicos, difundiéndolo en los foros y simposios interdisciplinarios que tienen que ver con la construcción de un envejecimiento activo, digno y saludable.
La coalición mundial de vacunación en adultos mayores, nos invita a pensar, que las vacunas deben ser vistas en el contexto del desarrollo humano, nos ayudarán a cambiar la historia de las enfermedades en la vejez así como lo hicieron en la infancia y claramente nunca se es demasiado viejo para no requerir y beneficiarse de una vacuna.
Robinson Cuadros Cuadros
Médico Geriatra
Presidente de la Asociación Colombiana de Gerontología y Geriatría