Connecting Healthy Ageing and Vision Report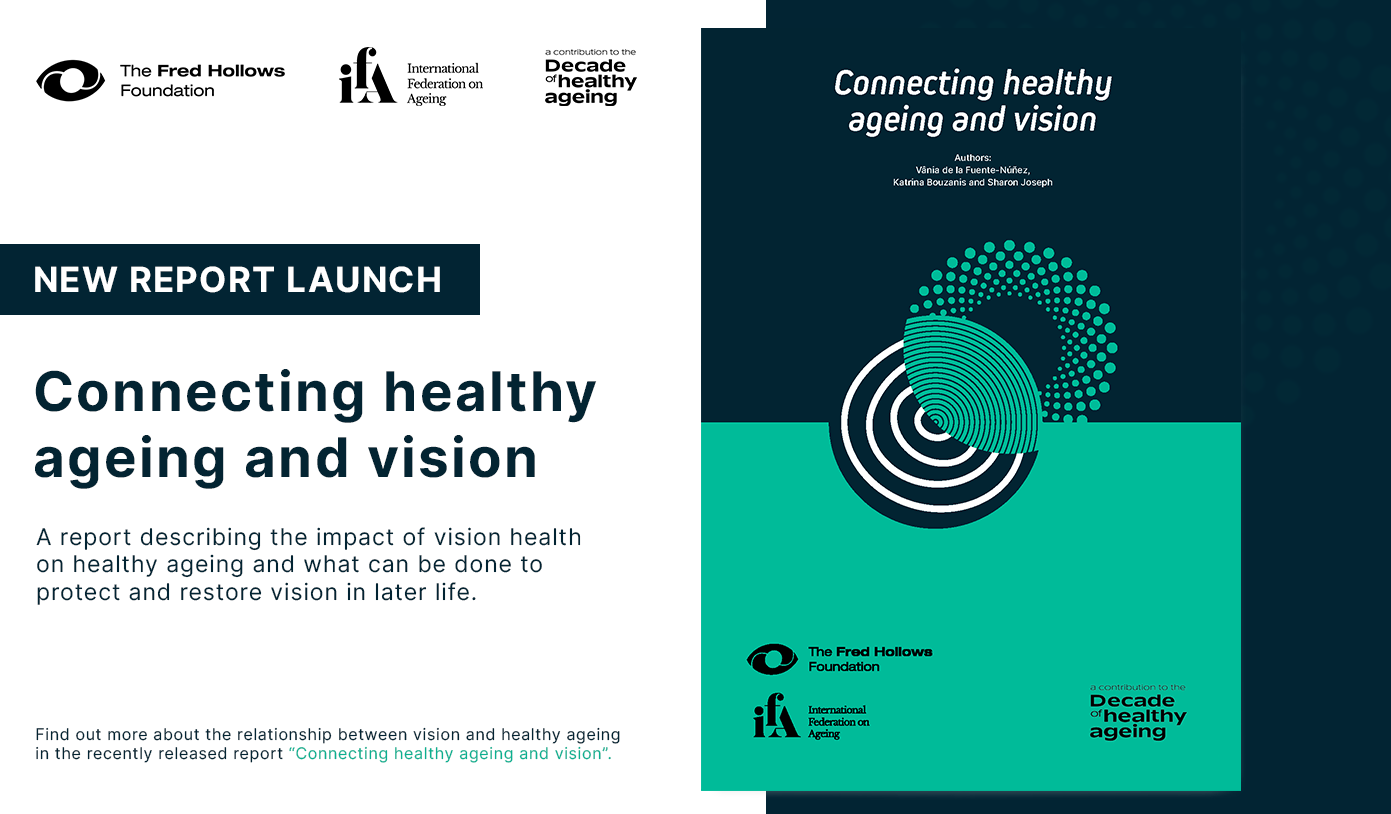 Connecting Healthy Ageing and Vision Report
An estimated 73% of people living with avoidable vision impairment are older people; that is 800 million people globally. This number will increase as the population ages, reaching 927 million people by 2050. Age-related eye conditions are leading causes of vision impairment and blindness. Deficits in vision have wide-ranging impacts on a person's physical and mental health, functional ability and economies and societies at large.
As a key component of intrinsic capacity, eye health is instrumental to healthy ageing. With global population ageing, there is a need for vision and ageing sectors to align agendas to improve the health and quality of life of older people. Collaborative action must be taken to support vision health in later life.
In collaboration with the Fred Hollows Foundation, IFA has authored a report that highlights the impact of vision loss on healthy ageing, and key actions to protect and restore vision in later life as part of the United Nations Decade of Healthy Ageing and beyond. The report aims to unite vision and ageing sectors to support vision health as an essential component for healthy ageing and to improve the lives of older people for generations to come.
Media Toolkit
The IFA would be grateful for your support in sharing information around this program throughout your extensive network.  We hope through the options below organizations will be able to promote the "Connecting Healthy Ageing and Vision Report" and support efforts to tackle eye health in the UN Decade of Healthy Ageing.
The following images were developed with the optimal dimensions to share on Twitter, Facebook, LinkedIn.
For any other file format (i.e., Instagram), please do not hesitate to reach out by email to Berenice Anaya, Director, Strategic Communications at banaya@ifa.ngo.
Please click on the image next to the text to be able to download it in a high-resolution version.
​
Social media caption
Characters
Image 

This #WorldSightDay, there is a need to shine a light on the vision of #OlderPeople. A new report describes the impact of eye health on #healthyageing and calls for ageing and eye health sectors to join forces to improve the lives of older people.

//

An estimated 73% of people living with avoidable vision impairment are older people.
This #WorldSightDay, there is a critical need to shine a light on the eye health of older people and align the sectors of ageing and eye care to support current and future generations of older people.

This new joint report by IFA and @TheFredHollowsFoundation describes the impact of eye health on #HealthyAgeing and what can be done to protect and restore vision in later life, and calls for sectors to join forces to improve the health and quality of life of #OlderPeople.

Read the report: https://shorturl.at/lnxBI

273

600

Vision loss impacts physical and mental health, and functional ability, making #EyeHealth instrumental to advancing #HealthyAgeing. A new report supports efforts to tackle #eyehealth within the @UNDecadeAgeing.

235

The consequences of #visionloss include increased risk of mortality, comorbid conditions, cognitive decline, depression, social isolation, and loneliness.

A new report by @InternationalFederationonAgeing and @TheFredHollowsFoundation highlights the burden of vision loss in older people and calls for ageing and eye health sectors to unite to protect and preserve vision in older age.

Read the report: https://shorturl.at/lnxBI

425

Vision loss greatly impacts the functional ability of older people, making it difficult to stay mobile, meet basic needs, contribute to society, learn and grow, and maintain relationships.

Learn more in a new report connecting vision & healthy ageing: https://shorturl.at/lnxBI

276