Event Today: Dispelling Myths Surrounding the Vision Health of Older People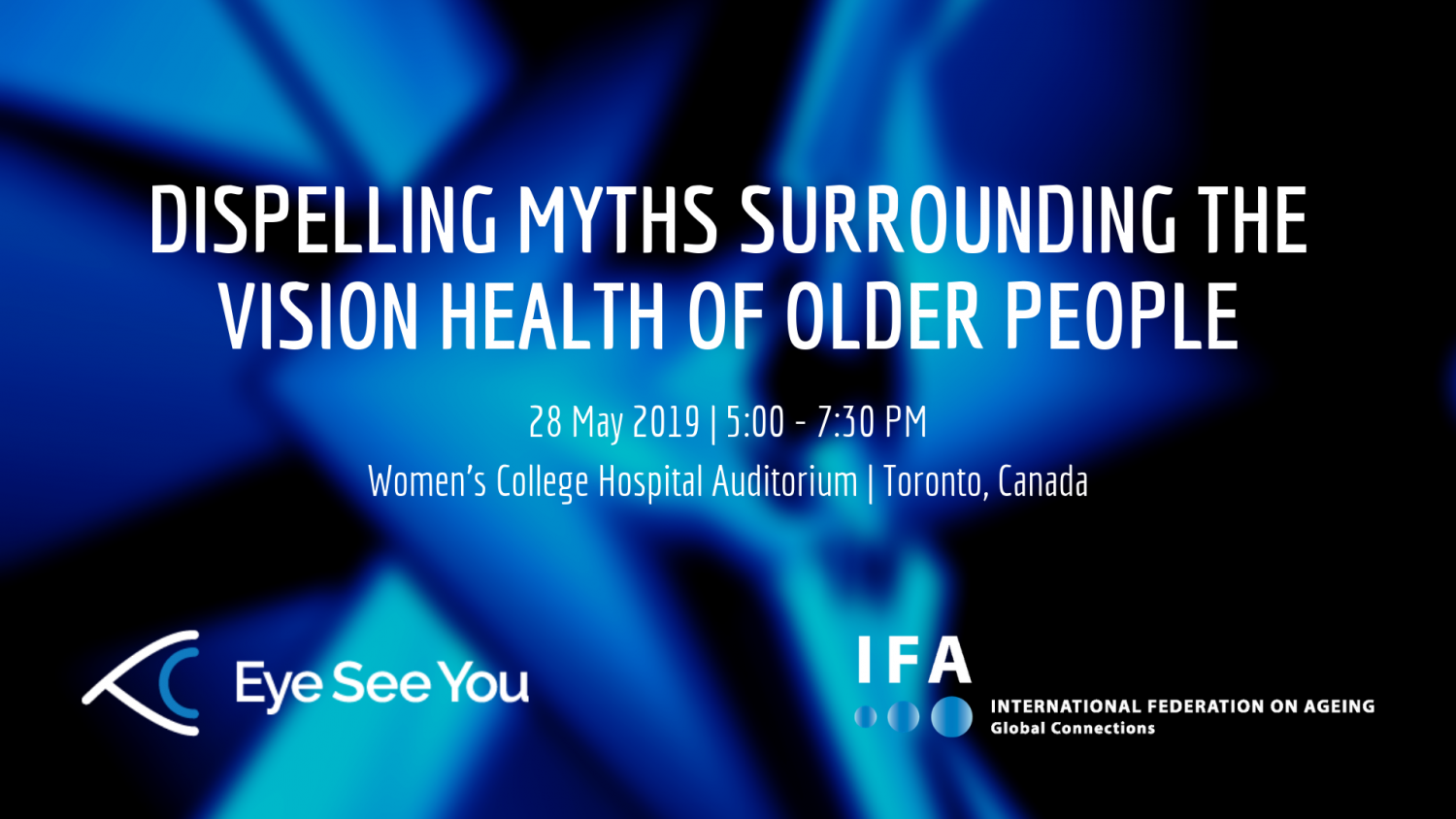 Vision Health Month centres on those who are vulnerable and at risk of vision complications
TORONTO, ON – In its fourth year of advocating for the right to sight, the Eye See You campaign continues to prioritize the vision health of all Canadians. During Vision Health Month, the International Federation on Ageing (IFA) is focusing on addressing inequalities amongst those most 'at risk' for vision loss.  We must level the playing field, so that vulnerable populations have the same educational information and opportunities to prioritize vision health, as other Canadians.
A multi-disciplinary panel discussion is being held in Toronto tonight to highlight knowledge gaps and identify solutions, so everyone in Canada can prioritize their sight.
With the country's leading experts in aging, vision-health and advocacy, the panel will unpack this complex discussion and highlight major themes that need to be addressed, before the Canadian situation can see positive impacts.
Ms. Laura Tamblyn Watts, Chief Public Policy Officer for CARP will moderate the discussion with the following esteemed panelists:
Dr. Chad Andrews, Senior Manager of Research and Education, Fighting Blindness Canada
Dr. Alan Berger, Vitreoretinal Surgeon, St Michael's Hospital
Dr. Susan J. Leat, Professor, School of Optometry and Vision Sciences, University of Waterloo
Ms. Joanne Lewis, Director of Knowledge Management, Diabetes Canada
Dr. Samir Sinha, Director of Geriatrics at Mount Sinai and the University Health Network
"Vision loss is one of the biggest fears of older adults, and most conditions are largely preventable," says Laura Tamblyn Watts of CARP. "While seniors are one of the at-risk groups, education is key to empowering them to care for their eyes."
In advance of the panel discussion, the IFA shared some compelling new research that puts the vision health issue, into context.  According to the data, more than half of respondents (57%) understand that aging alone does not cause vision loss, but that there are other factors at play, such as chronic conditions like diabetes.  Poor understanding of preventative strategies and difficulty accessing vision screening and treatments are areas that more than half of respondents believe contribute to vision loss.
"We know through our ongoing work with the Eye See You campaign that misinformation and myths keep many Canadians from making their sight a priority," says Dr. Jane Barratt, Secretary General at the IFA. "So much of the campaign's success has been built from bringing groups together- build bridges between disciplines and sectors – so we can uncover the challenges and work as a collective to address and resolve – this is where we see the greatest impact."
The research also showed 1 in 4 Canadians believe that increasing availability of routine screening and exams is the best approach to promote vision loss.  Despite expert insights that point to a need for increased education of vision loss in high-risk populations, only 14 per cent of respondents identify this as a priory.  Even fewer see broader public health education as important to promote vision health.
"Vision Health Month is a perfect opportunity to expand our thinking and better understand who is vulnerable", says Dr. Jan Hux, President, Diabetes Canada. "A partnered approach to education is always preferred and through the panel discussion, we hope to demonstrate our commitment to those at high-risk for vision complications and how they can prioritize their vision care."
The IFA-led survey also uncovered that 6-in-10 (57%) indicate that access to screening and treatments is the most important benefit from a prioritized approach to vision loss.  Independence and improved mobility for those with vision loss was seen as a benefit for only 32% of respondents.  Only 24% think that there would be diminished strain on the health system and even less (22%) see a bigger socio-economic benefit from prioritizing vision health.
The panel discussion takes place on 28 May at Women's College Hospital Auditorium – the event is open to the public and will look at the following themes: who is at risk, challenging harmful narratives and myths and addressing the gaps. See here for full event details.
About the Partners
The International Federation of Ageing (IFA) is an international non-governmental organization (NGO) with a membership base comprising government, NGOs, industry, academia, and individuals in 70 countries. IFA is a voice alongside and on behalf of older adults globally and has General Consultative Status at the United Nations and its agencies including the World Health Organization.
The International Diabetes Federation (IDF) is an umbrella organization of over 230 national diabetes associations in 170 countries and territories. It represents the interests of the growing number of people with diabetes and those at risk. The Federation has been leading the global diabetes community since 1950. For further information visit: http://www.idf.org/
The International Agency for the Prevention of Blindness (IAPB) is the coordinating membership organization leading international efforts in blindness prevention activities. IAPB's mission is to eliminate the main causes of avoidable blindness and visual impairment by bringing together governments and non-governmental agencies to facilitate the planning, development and implementation of sustainable national eye care programs. For more information, please visit: http://www.iapb.org