Press Release: COVID-19 Exposes Systematic Problems in Long-term Care Facilities Globally
As the world continues to face an unparalleled health crisis, older persons have become one of the most visible victims. This could not be more evident than when looking at the percentages of deaths in long-term care facilities around the globe. While these statistics reach upwards of 50% in many countries, experts say these numbers are most likely a gross underestimation of the stark realities facing these facilities.
"The number of deaths in long-term care facilities is both shocking and avoidable," says Mr. Greg Shaw, Director, International and Corporate Relations of the International Federation on Ageing, "The need for systematic reform could not be more clear."
COVID-19 has exposed long-standing, systematic problems in long-term care facilities, globally. The International Federation on Ageing calls on all levels of government to protect older vulnerable populations through the development of systems and policies that ensure staff and residents in long-term care homes are protected in the event of future infectious disease outbreaks which threaten the safety and well-being of all.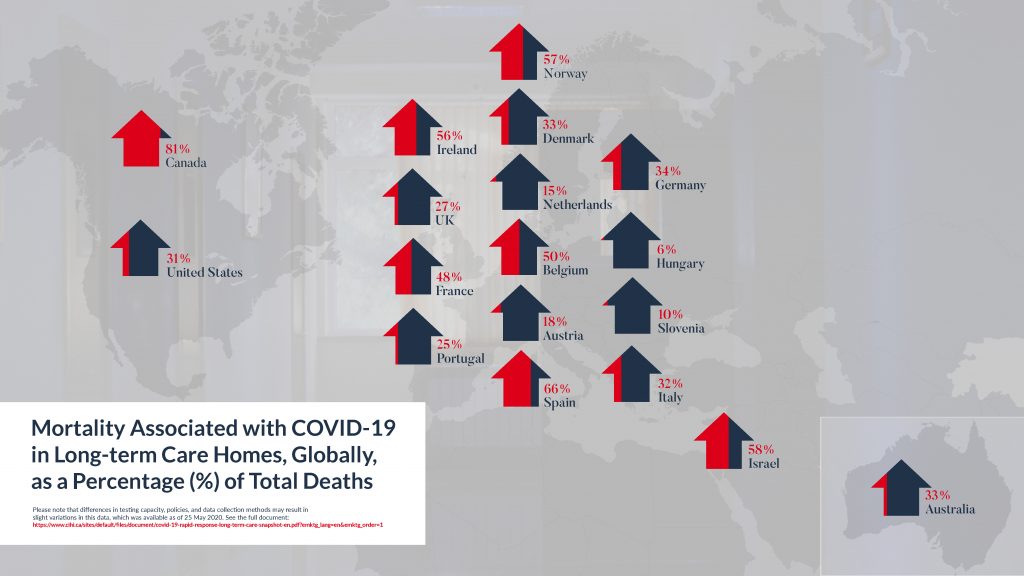 Mortality Associated with COVID-19 in Long-term Care Homes, Globally, as a Percentage of Total Deaths.
Please note that differences in testing capacity, policies, and data collection methods may result in slight variations in this data, which was available as of 25 May 2020. See the full document here.