WHO launches an innovative package of tools and App to help health and social workers offer person centered and integrated care for older people
GENEVA — On the International Day of the Older Person – 1 October – the World Health Organization (WHO) releases a package of tools to implement Integrated Care for Older People (ICOPE).
"Health and social services are often fragmented, or poorly suited to the needs and preferences of older people. I'm delighted to be launching WHO's new ICOPE guidance tools. This is a timely and valuable resource to assist decision-makers and primary care workers in caring for older people" says Dr Tedros Adhanom Ghebreyesus, Director-General of WHO.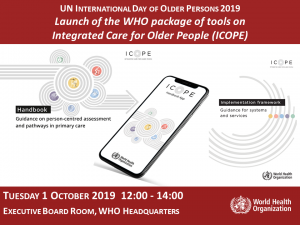 The new package includes a handbook with an interactive digital application for person-centred assessment and pathways in primary care and an implementation framework for systems and services. ICOPE tools provide a practical guidance to address the priority conditions associated with declines in capacities: mobility limitations, malnutrition, vision and hearing loss, cognitive decline, depressive symptoms and social care and support. The innovative digital application will accelerate the efficient training of health and social care workers to better address the diverse needs of older people.
The world's population is ageing at a fast pace. By 2050 the number of people aged 60 and over will more than double and the number of aged over 80 is projected to triple from 143 million in 2019 to 426 million in 2050. While every older person is different, intrinsic capacity and functional ability decline with increasing age. "Intervening at an early stage of declining capacity is essential so that older people can continue doing the things they value and prevent social isolation" says Dr Islene Araujo de Carvalho, group lead on ageing and integrated care at WHO. "Intervening close to where older people live, with the active participation of the community and older persons themselves for a true personalized care plan, is at the core of ICOPE" she added.
The ICOPE package of tools is the result of two years of extensive consultations with leading experts and stakeholders including civil society representatives.
The 2030 Agenda and the Sustainable Development Goals recognize that development will only be achievable if it is inclusive of all ages. Empowering older persons and enabling their full participation and social inclusion in good health are ways to reduce inequalities. "If implemented, ICOPE will move countries a step closer to our goal of seeing 1 billion more people benefiting from universal health coverage by 2023. On this International Day of Older Persons let's all embark on the journey to make society a place for people of all ages" concluded Dr Tedros.
Links: https://www.who.int/ageing/health-systems/icope/en/
https://www.who.int/ageing/events/international-day-older-persons/2019/en/