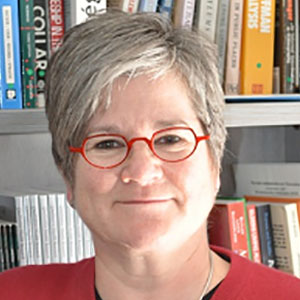 Prof Suzanne Garon is a full professor at the University of Sherbrooke's School of Social Work. She teaches at the undergraduate, graduate, and post-graduate level, and she is responsible for the epistemology seminar in the Gerontology Ph.D. program.
Prof Garon obtained her Ph.D. in sociology at the J-W. Goethe University Frankfurt in 1992. She is a specialist in program evaluation and a researcher at the Sherbrooke Geriatric Research Institute. Her research interests include community development, participatory evaluation methods, and social recognition of potentially excluded citizens, such as older adults. She is the author of numerous scientific articles and book chapters, and the co-author of several books on non-governmental organizations, social recognition, and senior participation.
Since 2006, Prof Garon has been involved in the World Health Organization's Age-friendly Cities and communities project. The model developed by her team has since been implemented in 900 cities in Quebec. She is the principal investigator in the implementation and evaluation of the Age-Friendly Cities and Communities program in Québec (AFCC-QC) and since 2017 the director of the World Health Organisation Collaborating Center on Age-Friendly Environments.