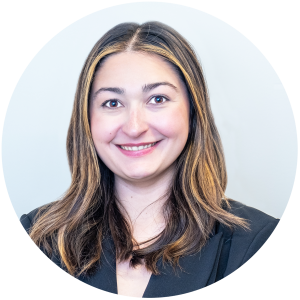 Katrina joined the IFA team as a Project Officer in 2021. Since joining the IFA, she has worked on various portfolios including vaccination, hearing and most recently the DR Barometer program.
She is a graduate from McMaster University's MSc. Global Health Program, and holds a BSc. in Microbiology and Immunology with Honours from Dalhousie University. Since embarking on her global health studies, Katrina has been involved in various health research projects and initiatives. She is particularly interested in infectious disease care, global health policy, health equity and the social determinants of health.
In her positions at McMaster University, Katrina coordinated and contributed to research projects examining infectious disease care for people who inject drugs, analysis of COVID-19 policies globally and assessment of maternal quality of care. In the summer of 2020, Katrina completed a practicum placement with the London School of Hygiene and Tropical Medicine, where she furthered her skills in project management and qualitative research.
In her free time, Katrina has worked to engage students and young professionals to tackle global health challenges. Katrina hopes to continue to address ongoing health challenges and inequities in her work with the IFA.