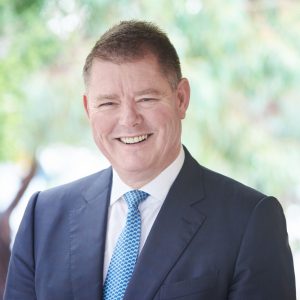 With a deep understanding of how the aged care sector is evolving and an appreciation for the diverse health and wellbeing needs of our ageing community, Graeme Prior has dedicated his career to shaping aged care delivery in Australia.
Graeme is the co-founder and CEO of Hall & Prior – a nationally recognised and respected leader in aged care delivery, quality and innovation. Founded in 1992 with a single family-owned nursing home, under Graeme's  leadership Hall & Prior has expanded to include
25 'centres for healing' across Australia offering world-class care, amenities and cutting edge aged care programs, servicing 1,600 aged care residents and employing 2,100 permanent staff.
Over 25+ years, Graeme has actively consulted and initiated enlightening conversations with Australia's senior community, government, industry members, and nursing and healthcare professionals to identify sector trends and influence the delivery of improved welfare and health outcomes.
Leading the organisation's commitment to enhancing social outcomes through the provision of carefully considered, quality and accessible care options for all older people no matter what their individual circumstances or background; supporting research and education; and significant sector investment, including designing and building new, world-class aged care homes that respond to Australia's growing demand for quality aged care choices.
A thought-leader of the industry, Graeme is passionate about improving the quality of aged care services through education, workforce enablement, and the use of technology to implement evidence-based practice. Graeme's focus is on knowledge creation to ensure better evaluation, planning and delivery of care services.
Graeme was born and educated in Perth and completed a Bachelor of Commerce at the University of Western Australia in 1983. He is one of seven siblings. His mother was a Registered Nurse and midwife and his father a Commonwealth Government Engineer.
Graeme is the father of five: Daniel (born 1987), Andrew (born 1991), Mason (born 1995) and twins Thomas & Isabella (born 2014). Married to Fiona.