#AIDSageism: Raising Awareness for Older People with HIV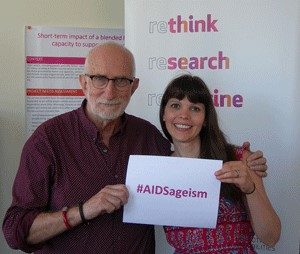 With one in four Canadians with HIV exceeding the age of 50, Realize, a national, charitable organization that responds to the rehabilitation needs of people living with HIV/AIDS, has launched a campaign to fight #AIDSageism at the International AIDS Conference in Amsterdam in July 2018.
Ageism involves negative stereotyping, prejudice and/ or discrimination against older people, and is both persistent and often socially acceptable, intersecting with many other global issues.  In areas of the world where people living with HIV are older, such as Canada, the US and Western Europe, the world's response to HIV and AIDS is impacted due to ageism.
Older people living with HIV are being overlooked in health strategies, planning and policy-making; their unique experiences are being forgotten, and the evolving health and social uncertainties they face are barely on the radar.
While this issue is large in scope, Realize is determined to make a change.  In collaboration with international partners, Realize organized an information and networking zone for the Global Village at the conference.  This information and networking zone was supposed to focus on what it means to age with HIV.  Unfortunately, they were turned down by organizers—something that further emphasized the lack of focus internationally on HIV and ageing.
Undeterred, Realize approached the human rights and HIV community with hope and determination to secure an opportunity in the Global Village.  With the support of partners, they will now be presenting a panel titled "The Gray Zone: Ageism as a Human Rights Issue in the Global Response to HIV" in the Human Rights Networking Zone.
Now, Realize needs your help:
Take a picture of yourself with their campaign hashtag, #AIDSageism and post the photo on Facebook or Twitter using that hashtag. Don't forget to tag @HIVandRehab
Share their Campaign Video (https://youtu.be/qbq19JlhEXY) on your social media accounts
Share the campaign information with your network
The IFA is a named partner with Realize and the #AIDSageism campaign; the IFA takes pride in ensuring the voices of older people living with HIV are heard.  When the world meets in Amsterdam to think about the future of the global HIV response, Realize and the IFA want to make sure older people with HIV are part of the conversation.
Help fight #AIDSageism today.