Dementia: ADI conducts world's largest survey on people's attitudes to increase understanding and awareness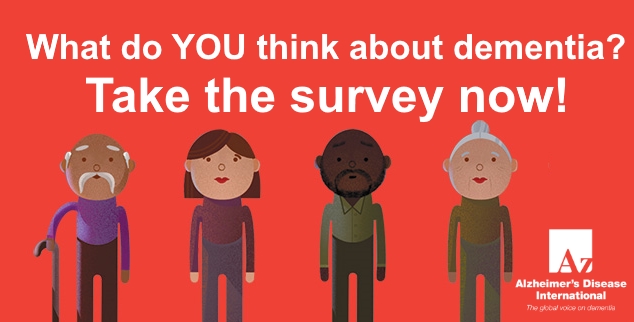 Guest Blogger: Chris Lynch, Deputy CEO and Director of Communications and Publications, Alzheimer's Disease International
For the millions of people affected by dementia and Alzheimer's disease, there is still a lot of work to do to change people's attitudes and perceptions around it. Although there is growing acknowledgement that this is not a natural part of ageing, stigma surrounding dementia is still a major barrier to governments, policy makers and health and care professionals, even in countries with burgeoning awareness campaigns. Many people are not aware that people can have younger onset dementia in their 30s and 40s and have misconceptions around the 'face' of dementia, as there are many. These attitudes may explain why people defer acting to seek out information, help, give advice, get diagnosed and support when they are first worried about their memory or that of someone close to them.
In order to change perceptions, we must improve understanding of the scale of the global challenge posed by dementia. Alzheimer's Disease International (ADI) is carrying out the largest survey ever attempted on people's attitudes around dementia. Results of the survey will form the basis for the next World Alzheimer Report, to be released during World Alzheimer Month in September 2019.
The survey takes about 10 minutes to complete and is available in 30 languages. The questions are predominantly multiple choice and targeted to four key groups:
The general public
Health and care professionals
People living with dementia
Carers of people living with dementia
The survey takes only a few minutes of your time but completing it will benefit people living with dementia and their families around the world. Every time someone completes the survey we are a little bit wiser about the challenge we all face.
This work will help to sharpen advocacy with governments around the world; many governments prefer not to tackle dementia and rely on the lack of a movement and of an open conversation to stay inactive on the subject.
The survey will also help to sharpen advocacy for risk reduction strategies in every country. With the expanded 5 x 5 approach of the World Health Organization (WHO) to include mental health and neurological conditions, we are slowly seeing progress in this area. The recently-launched WHO guidelines on risk reduction of cognitive decline and dementia should provide inspiration for individuals and policy-makers to adopt lifestyle behaviours that will decrease the likelihood of developing dementia. However, in order for risk-reduction strategies to be successfully implemented, there needs to be an open dialogue about dementia and increased awareness. In this way, the survey will
The survey is open until 14 June. Please consider filling it out and share with your friends and colleagues. We urge you to use this project as an example of how civil society can and should enhance the understanding of an area of health in order to stimulate and bolster governmental action.