Launched at IFA2018: Older LGBTQI People Call to Action
The IFA's 14th Global Conference on Ageing this past August delved into a multitude of topics within ageing. One such important issue was to bring to attention the experiences of older LGBTQI people. On 10 August, during the morning plenary session, ten organizations from around the world walked across the stage and signed the Older LGBTQI People Call to Action, pledging to work towards alleviating the inequalities felt by these communities and illustrating their global commitment to older LGBTQI people.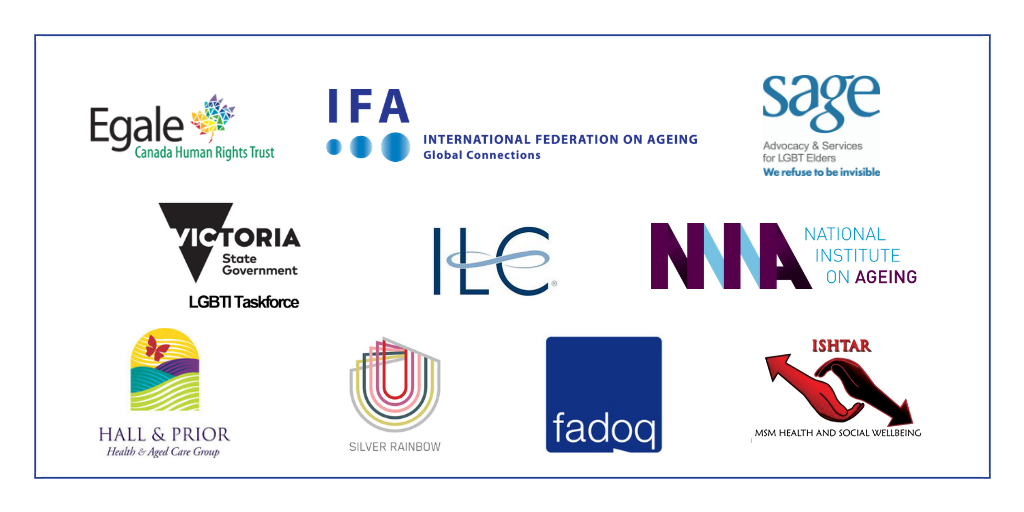 While Addressing Inequalities was selected as one of the core conference themes because diversity is often overlooked in policies and programs that aim to improve the health and well-being of older people and the ageing population, older LGBTQI people are an important subpopulation that experience inequity in their daily lives and as such, are at significantly greater risk for physical and mental illness.
The IFA, SAGE, Egale Canada and the Working Group on Older LGBTQI People developed this Call to Action as a means to improve awareness through new learnings of the inequalities experienced by older LGBTQI persons and build expertise to create solutions.  "Invisibility and isolation among older sexual orientation and gender identity minorities across the globe leads to neglect and abuse," said Michael Adams, CEO of SAGE when he opened the formal launch and discussed the experienced of older LGBTQI people.  Not only are these individuals at an increased risk of social exclusion, older LGBTQI people may be less likely to access support at non-LGBTQ2 health service providers, meal programs, and other types of social support programs for fear of discrimination and sexual harassment.
Moving forward, the IFA invites individuals and organizations to join and pledge to address the inequalities of older LGBTQI people. Take example from those who have already signed and join the global movement today.
Sign the pledge as an individual or on behalf of your organization using these links: