On Route to Canada: Hong Kong Delegation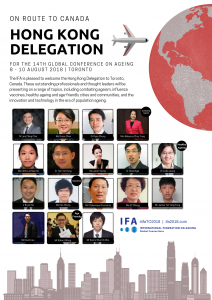 The International Federation on Ageing 14th Global Conference on Ageing is attracting some of the world's thought leaders and experts in the field of ageing, and applied fields including health, technology and innovation and long-term care.
The Hong Kong delegation facilitated by Ms Grace Chan, General Manager of Innovation and Technology for Ageing for the Hong Kong Council of Social Service totals twenty-one leaders in their fields.
Thought-provoking innovations and technologies to improve healthy ageing and contribute to age-friendly environments will be central to a vast array of presentations.
World renowned Dr Lam Ching Choi, Chairman of the Elderly Commission in Hong Kong has kindly agreed to participate in the arm chair discussion 'Disrupting the Innovation Landscape' moderated by Ms Alana Officer from the World Health Organization.  Mrs Rebecca Choy Yung, Founder and Chair of Golden Age Foundation looks at 'Combatting ageism through business innovation'.  Mr Chalermpon Punnotok, CEO of CT Asia Robots will present on the DINSOW robot that serves in Japan and the European Union, and Mr James Tsz Yang Fong will explore the daily life experience of older people with visual impairment in Hong Kong using the Kawa Model.  These are just a few of the any presentations from the Hong Kong delegation which will be at the forefront of important discussions "Toward a Decade of Healthy Ageing."
The Hong Kong Delegation is an outstanding group of professionals and thought leaders and the IFA Conference is grateful for their presence and contributions.  See the image below for the full presentation titles and conference delegates that form the Hong Kong Delegation.