Seeing Through My Father's Eyes: Reframing Dementia
IFA Guest Blogger:
Ms
Kimberley Littlemore, is a fellow of Swansea University Medical School and an award-winning former BBC filmmaker.  As the Creative Director of eHealth Digital Media, Kimberley is responsible for producing high-quality film content, working with award-winning crews and graphic animators. Her strong academic abilities allow her to combine visual flair with an ability to master and communicate complex theoretical and medical content.
This is a picture of my father, former architect Clive Jenkins, being fitted with a pair of retinal tracking glasses for an experiment with a team from the Assistive Technologies Innovation Centre at the University of Wales in the UK.  Our team was trying to see whether the technology could give us insights into the way that people with dementia interpret what they see while performing familiar tasks.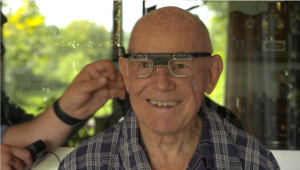 I am a former BBC producer working with the National Health Service in the UK to produce films to support people living with chronic conditions, and you'll meet me if you have a moment to watch this film that we made as a first experiment to see how technology might throw light on some common challenges for people with dementia, and how this information can be used to create useful resources for people living with and alongside dementia.
The experiment led us to conclude that short films could be made to showcase the effects of clutter in distracting some people living with dementia from completing once familiar tasks, such as that of getting dressed as illustrated in the video.  Professor Andrea Tales from the Centre for Innovative Ageing, Swansea University wrote,
"I think your brilliant film is a real-life example of such difficulties.  We've only really done laboratory mock-ups of the environment, but your film shows what's happing beautifully, and in a much more powerful way — especially the information about distracting information."
See below for visual information that was garnered from the glasses by analysing the distracting nature of what my dad was seeing in the busy cupboards and shelves littered with the paraphernalia of 40-odd years of family life.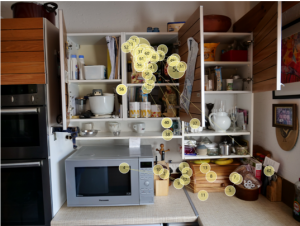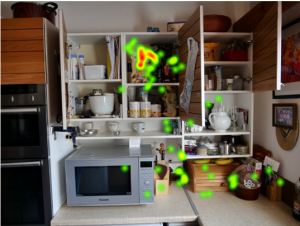 Our team is eager to develop these insights into a series of films to support formal and informal carers by sharing common experiences of dementia and solutions as well as hearing from professionals such as Professor Tales about what we know is going on in the brain.   If you are interested in collaborating with us on this project to develop a series of films exploring ways to support people with dementia then please contact me at kim@ehealthdigital.co.uk.