Revera Report on Happiness
Revera & IFA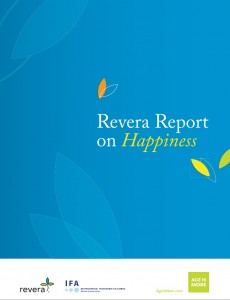 Contrary to widely-held stereotypes, research shows the older you are, the happier and more optimistic you are about aging. Partnering with Leger Marketing, Revera Inc. asked Canadians aged 18-32 (Gen Y), 33-45 (Gen X), 46-65 (Boomers), 66-74 (Seniors) and 75-plus (Older Seniors) about their attitudes towards aging. The survey found seniors are very positive about their later years, saying things like "age is just a number," "you never stop living life to the fullest," and "the best is yet to come." This sense of optimism underscores the need to challenge potentially ageist assumptions about aging and recognize the valuable contributions of older adults to society.
In partnership with the International Federation on Ageing, Revera is fighting ageism through Age Is More; a program designed to challenge the stereotypes faced by seniors today, promote an age-inclusive society and celebrate the ageless spirit of older people. Initiatives like this are needed because despite an aging population, ageism is still the most tolerated form of social prejudice when compared to gender–or race–based discrimination. Canadians are encouraged to visit www.AgeisMore.com to learn more about ageism and its impact, and contribute to the dialogue around the issue.
You don't just get wiser with age… The older you get, the happier and more optimistic you are about ageing.
Seniors 66 and older are more likely than any other generation to report that 'aging means you are happier;' in fact, they are twice as likely as Gen X and Baby Boomers to make the statement
The majority of seniors 66 and older (65 per cent) say they are happy with their life, and over half (57 per cent) are optimistic about aging; interestingly, optimism further increases as you get older with 62 per cent of those 75-plus saying they are optimistic about aging
While the majority of seniors 66 and older are optimistic about aging, the opposite is true of younger generations, specifically Gen Y and Gen X, most of whom report they are not happy with their life right now, nor do they express optimism towards aging.